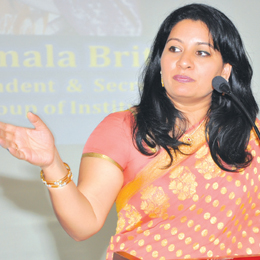 Mrs. Vimala Britto
Secretary & Correspondent
St. Britto's Group of Institutions
Dear Students,
I invite you warmly to enter into the portals of St Britto's College. I thank you for making St Britto's as your choice to pursue your studies and shaping your future. You have made the right choice. I am sure that this choice will make a significant difference in your life.
Here at St Britto's we look at education differently. For us, education does not lie merely in accumulation of knowledge. Instead, it lies in the formation of one's character. Not information, but formation of character should be at the center of educational enterprise. People ask me often what difference we make in your college or school. In the context of commercialization of education, they ask whether we are one of the business groups ventured into education for profit.
We say 'no'. We do not see it as a business. It is our passion and in a sense it is our vocation. Drawing upon the experience of our parents who were dedicated teachers, we want to contribute to the society through our educational institutions. We have done it through our schools – St Britto Academy. That experience only has guided us to founding a college with renewed vigor and resolve.
As the administrative head of the college, I make enormous effort to make the learning in St Britto's unique and interesting. To this end, we recruit competent professors who have the skills to teach you and help you form your character in the right way.
For a quality institution teachers are crucial and fundamental. They must have the competence to generate interest in students in the subjects they teach. Teaching is not about deposit of facts and figures; instead it
is about critical thinking and analytical skills. We guide our faculty to place emphasis on this for which we have regular faculty development programmes to update their knowledge and develop new pedagogical skills. Realizing innovation as the engine that drives growth, our faculty makes effort to be innovative in the ways they teach and evaluate the learning. More importantly, our faculty will accompany you in your growth. By the end of your studies with us you will become able, capable, and employable.
At the end of your studies, we want you to be entrepreneur and complete human being. Success in life, I feel, is not measured by the money you earn and comfort you buy but it is measured by how you handle yourself and relate to others. All your education must make your life meaningful not to you and but also to others. This is what we aim at in our college.
For this you will be exposed to industry while you learn theories in classroom lectures. This exposure would inspire you to design business plan for your own start-ups. To help you in this, experts from industry will be in the pool of our visiting faculty. Finally we will have achieved the goal of our mission if there would be more employers, not simply employees.
With Best Wishes
Mrs Vimala Britto